1950s Disco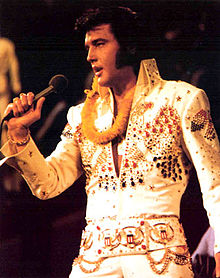 The decade of the Fifties gave birth to Rock and Roll. When Bill Haley's Rock Around The Clock became popular in 1955, the nation learned to swing to a whole new sound.
The feel-good innocence of a lot of the Fifties music reflects on the post World War II optimism in America. The young people of the time, an emerging force called teenagers, hadn't struggled through the war years. They were looking for something more exciting. They discovered that vitality in Rock and Roll.
During the Fifties both styles of music co-existed quite nicely. Some of the music you associate with the Fifties was actually recorded in the Sixties. Blue Moon, by the Marcels, for example. And all of the "girl groups" are from the 60's. When you look at the dates , musically the styles tend to break off mid-decade. The tunes from '55-'64 are pretty much alike. Things don't change much until the British musical invasion of U.S. and the U.S. military invasion of Viet Nam, from around '64-'74.
Number 1 Hits of the 1950s
| Year | Track Title | Artist Name |
| --- | --- | --- |
| 1950 | Daddy's Little Girl | Mills Brothers |
| 1951 | Too Young | Nat King Cole |
| 1952 | Unforgettable | Nat King Cole |
| 1953 | That's Amore | Dean Martin |
| 1954 | Shake, Rattle and Roll | Bill Haley & His Comets |
| 1955 | Cherry Pink and Apple Blossom White | Perez Prado |
| 1956 | Heartbreak Hotel | Elvis Presley |
| 1957 | All Shook Up | Elvis Presley |
| 1958 | Volare | Domenico Modugno |
| 1959 | The Battle of New Orleans | Johnny Horton |