1970s Disco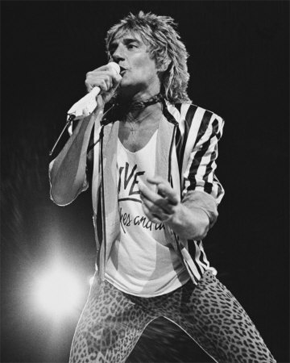 This decade saw the division of rock into subdivisions beyond the general categories of hard rock (extremely loud and electrically amplified) and mellow rock (softer, and with acoustic instruments). Rock blended with reggae, which emerged from Jamaica around 1972, and is a mix of rock, soul, calypso, and other Latin rhythms.
Other styles emerging in the 70's were punk rock, bubble gum music, and heavy metal rock which continued the hallucinogenic approach of acid rock, but using loud volume, electronic distortion, and vulgar stage antics. Some bands expressing these feelings were Kiss, Alice Cooper, Led Zeppelin.
Led Zeppelin, who is a British rock group was most popular during 1970s. The members were: lead singer Robert Plant (born 1948), guitarist Jimmy Page (born 1944), bassist and keyboardist John Paul Jones (born 1946), and drummer John Bonham (1948-80). Led Zeppelin was founded in1968 by Jimmy Page. They released their first album, Led Zeppelin, in 1968. Other popular albums included Led Zeppelin II (1969), III (1970), and IV (1971), Houses of the Holy (1971), The Song Remains the Same (1976), and In Through the Out Door (1976). Their most famous song was `Stairway to Heaven' (1971). With the death of Bonham in 1980, the band was at a great loss, and band members (Plant and Page) went on to solo careers. The reunion of the remaining band members was in 1985, for a Live Aid benefit concert in Philadelphia. Another reunion took place in 1988 for Atlantic Records' 40th anniversary celebration (John Bonham's son, Jason, played the drums).
Some other bands worthy of mentioning include Pink Floyd, The Doors, Eagles, Genesis, CSNY (Crosby, Stills, Nash, and Young), The Monkees, Jimi Hendrix, Janis Joplin, Chicago, Fleetwood Mac, Jackson Browne, Michael Jackson, and many others.
Number 1 Hits of the 1970s
| Year | Track Title | Artist Name |
| --- | --- | --- |
| 1970 | Raindrops Keep Fallin' on My Head | B. J. Thomas |
| 1971 | Joy to the World | Three Dog Night |
| 1972 | Alone Again (Naturally) | Gilbert O'Sullivan |
| 1973 | Tie A Yellow Ribbon Round The Old Oak Tree | Tony Orlando & Dawn |
| 1974 | The Way We Were | Barbra Streisand |
| 1975 | Love Will Keep Us Together | Captain & Tennille |
| 1976 | Silly Love Songs | Wings |
| 1977 | Tonight's the Night | Rod Stewart |
| 1978 | Shadow Dancing | Andy Gibb |
| 1979 | My Sharona | The Knack |